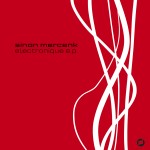 Sinan Mercenk's new production, Electronique E.P., consisting of four tracks, sounds what Deep House is supposed to sound in 2009 and he does not hold back: his music keeps on being the true soundtrack for the nightlife, which many so hopelessly try to copy. The E.P. focuses on electronic sounds, a mix between Moog and Minimal, which create a beautiful assortment of melodies and sounds that fit perfectly together. As a popular Remixer and Compiler, Sinan Mercenk knows how to work the mixing tools. Stunning compilations like from the sounds like stilwerk series do not surprise the listener and make him yearn for more. Therefore the Electronique E.P. is just the beginning for what else there is to come.
In September there will be another release from Sinan Mercenk also introducing his own label idee deluxe records. This time the album True Collection will be a collection of wonderful downbeat lounge tracks that will feature fabulous singers such as Oezlem Cetin, Yasmin K., Patricia Solis, The Voice Of Rita and Selda.
Tracklisting
1. Amarte Every Day
2. Controlpitch
3. Get Up!
4. Nice Breaks
Artist: Sinan Mercenk
Title: Electronique E.P.
Releasedate: 04th of september 2009
Format: Online
Label: ideedeluxe records | LC: 23315

Video: watch on youtube
→ Sinan Mercenk - Electronique E.P. - Controlpitch
Sinan Mercenk Online:
https://www.facebook.com/SinanMercenk.official/
sinanmercenk.de
https://www.youtube.com/user/sinanmercenk
mixcloud.com/SinanMercenk
https://soundcloud.com/sinan-mercenk
For more informations or interview requests, please contact: promotion@ideedeluxe.de
Downloads.
| | |
| --- | --- |
| bei: | |