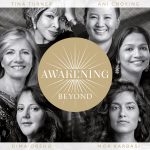 Music for tolerance and love
For the fourth time BEYOND release their global message. «AWAKENING BEYOND» is a heartfelt offering by many musicians and voices, a «note of hope» to inspire mutual respect, compassion, and dialogue between religions and cultures around the world, and to awaken tolerance and love.
In 2016 the project blossomed to include six singers from six different cultures and an orchestra. The resulting double-album, «AWAKENING BEYOND» features lyrics, prayers and lullabies sung by Regula Curti from Zurich, Switzerland; Ani Choying from Kathmandu, Nepal; Dima Orsho from Damascus, Syria/USA; Sawani Shende Sathaye from Pune, India; and Mor Karbasi, from Jerusalem. Tina Turner from Switzerland/USA speaks the spiritual and universal message. Specially qualified musicians were engaged to perform the authentic sounds of each culture with traditional instruments. The original score was written by Syrian-American composer and producer Kareem Roustom and the soundtrack was performed by the world-renown Philharmonia Orchestra London and recorded at historic Abbey Road studio.
THE BEYOND HISTORY
In 2008 BEYOND MUSIC launched with Tina Turner, Regula Curti and Dechen Shak-Dagsay to celebrate their various cultural and spiritual backgrounds through music. Their first album, «BEYOND (Buddhist and Christian Prayers)», received the blessing of His Holiness the Dalai Lama. This platinum-selling album sparked international interest, and it became clear that BEYOND held the seed of something larger. It would become part of a global awakening toward mutual appreciation and dialogue between cultures and spiritual traditions.
In 2011, empowered by their initial success, the three singers produced a second album, «CHILDREN BEYOND». Together with thirty children representing six different cultures and religions they created new music to foster understanding, compassion, and tolerance. The Gold award-winning album was selected to become soundtrack of the film «Planting Seeds of Mindfulness» initiated by Thich Nhat Hanh, Master of Mindfulness.
In 2014 Sawani Shende Sathaye, master of Indian classical music, representing the Hindu tradition, joined BEYOND Music, and the four women singers released a third album, «LOVE WITHIN BEYOND», Praise to all the Divine Mothers, Goddesses and Saints. Enriched through Indian musicians and Hindu prayers the music gained access to the world of yoga. This production was given the honorable TARA Award, a tribute for compassionate actions in society.