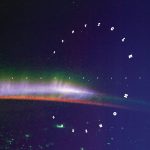 SPACEPILOT is, not surprisingly at all, taking us quite literally on a journey through space. In the absence of gravity and known territory, they are exploring floating particles motioning into a musical fabric. Investigating pace and how this very pace is translating into sensations and human emotions.
They start off with Orion, playfully discovering the new, with jazzy yet coarse rocky structures, harsh riffs intersecting frisky tunes. To then slowdown, reducing the rhythm to a slight drift, developing this musical gliding into the Centaurus A by picking up speed and ending in jumpy fragments.
In the song Enceladus, SPACEPILOT is very elegantly posing the question of the absence of sound in space. We can hear underwater bubbly sounds, muffled, without air and a clock like rhythmic pace against an elegiac trumpet exploring the tense structure of the ice moon.
Kepler 442 is giving an excitingly fresh speed, transforming into happiness – discovering and inviting noise as expression of joy. While Hypatia is roaming in smooth anticipation, making space for the untraceable. With a feminine sound quality to it, the song seems almost velvety and in search of hidden knowledge. Countered by Heliosphere, a sexy wild ride twitchy, uneven, fidgety – emotions arising bubbling up and disappearing again. Rhythmically more forceful, eager even.
One can ask: Where is this gonna go? And promptly SPACEPILOT is answering and finishing off by creating worlds: a multitude of musical layers appearing and disappearing again, painting imagery of rich outta space worlds, unfathomable to the human mind.
Enjoy the ride.
Available digital and as limited edition vinyl (incl. download). Guests: Tim Hagans (Trumpet), Jack Daniel (Vocals)