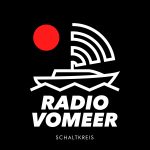 RADIO VOMEER…nothing quiet on the  Eastern front! "Cast off, set sail and full speed ahead!" Captain Herold Vomeer is front man of the Berlin Combo "RADIO VOMEER" founded in 2017 and is about to write a new chapter of german POP! Him and his partner Mecstreem aren't dark horses. Both of them have been an essential part of the Berlin night, art and music scene for a good 20 years.
Now they enter the light together: "It is time to present music to people that was not concipated on a black board! RADIO VOMEER is music in raw! Soul and truth, no feelings borrowed! We live what we produce."
Their freighter continues its journey, loaded with colours, emotions and stories. In January they will anchor at their home port/Heimathafen, to loudly perform and sing the songs from their first EP together with you. This mixture contains joy of life, strength and is super danceable… a guaranteed ear worm included.
As a stagehog, visionary, hedonist, music freak, party monster, your trustee and someone you cannot only …steal horses with, but the whole flock – you could describe musician and actor Herold Vomeer.
In addition to Herold Vomeer's catchy chorus and lyrics, that immediately stick with you, Mecstreem weaves in the finest electronic sound tapestry. The two get straight to the point: "Music without additives" they call it…and you can feel that. "Our definition of art is very simple…we turn nothing into something! Good electronic music and the minimalization of the topic." They are all in, keeping their fingers on the pulse of times.
In January "RADIO VOMEER" is releasing the first EP. The first single "Schaltkreis" was released independently in summer 2018, echoing through the Berlin underground.
Original quote by RADIO VOMEER: "With the track currently being remixed, we are about to take "Schaltkreis" where it belongs – on the dancefloors of the clubs. Who but producer legend Sinan Mercenk from ideedeluxe records should have taken over the controllers?" Whoop whoop there it is, Schaltkreis reloaded! Enjoy!
Video RADIO VONMEER – Schaltkreis: watch on youtube
→ RADIO VONMEER – Schaltkreis
Copyright by ideedeluxe records