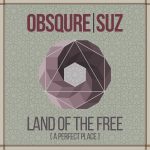 Land of the Free (A Perfect Place)" is the second single outtaken from "Crossroads", the album written and composed by Suz, moniker of the bolognese singer and authoress Susanna La Polla De Giovanni together with Obsqure aka Youssef Labidi, Tunisian producer based in Doha, Qatar. This second excerpt from "Crossroads", which will be released next November by Berlin label Springstoff and distributed in main digital stores, tells of a journey through the sea undertaken to escape danger and harm and to reach a safe place to find shelter, a perfect place where to start a new life.
The birth of the clip, directed by Carlotta Piccinini of Elenfant Film, has been long and troubled as it took almost two years to understand in which direction to go, but "good things come to those who wait" says a well-known English proverb, so a fortuitous timing resulted in the videoclip finally completed just when Mediterranea, the Italian civilian ship born with the intent to testify and denounce how the current policies of the European Union are causing the death of hundreds of people at sea, was presented to the press and was preparing to sail for the first time the Central Mediterranean Sea. For Susanna, Carlotta and Sara Prestianni, author of the evocative pictures featured in the video, it seemed an extraordinary occasion and the three, fully sharing all the principles that move the Mediterranean – Saving Humans project, strongly wanted this collaboration that was fortunately greatly welcomed by Mediterranea activists.
The video of "Land of the Free (A Perfect Place)" is a story realized through animated photographic images of a human journey in search of freedom. These pictures, animated by the talented Diego Sanna of Bloomik animation company, come from the archives of photographer Sara Prestianni and are part of her documentary research on contemporary world migrations. The director's choice to erase the faces of people featuring in the video and their bodies reflects the cynical dehumanization process that strongly characterizes the approach of contemporary society towards the very act of migration. Today, those who emigrate are considered enemies, adversaries, a threat, for the inability to understand that behind the act of migration there are harrowing stories of men and women, behind the faces of which universal feelings are hidden. a humanity in which we can and must still try to recognize ourselves.
Click to watch video on youtube: