Welcome to samovas modern tea culture! With samova experience modern tea culture »made in Germany« since 2002.
Founded from a passion for tea and herbal specialities, the founder managed company stands for a new taste experience made from the best raw materials, an award winning design and out of the ordinary events. For example modern tea dances and the philosophical salon. All products in the samova collection are created and produced to the highest quality and sustainability standards. Herewith an inseparable bond has been formed between this passion for unusual tea and herbal specialities and the love of music. samova tea categories set the pulse: »Beat« starts the pace with first class black and green teas, refreshing at any time. In the »Pop« section the tea and herbal mixes offer good mood ingredients such as vanilla pods or organic orange oil. The »Relax« realm of herbs are calming and relaxing. samova founder Esin Rager is always inspired by a certain song or style of music when creating a new tea blend. And of course, because it is impossible to imagine parties and nightlife without music – samova has also established itself in this sector with delicious tea cocktails – mixed with or without alcohol – both variations are met with enthusiasm.
From the beginning the Sinan Mercenk sound has put its stamp on the modern samova tea dances and tea cocktail parties. He has dedicated a compilation »samova – Music for Modern Tea Culture« to mark the tenth anniversary of this Hamburg brand. From Hamburg, he is a music producer, DJ, remixer and owns his own label. In the meantime he can look back on 30 of his own releases. His remixes for renowned labels such as Motown and artists such as De-Phazz, Tarkan, Mustafa Sandal, Eddie Matos und Blank & Jones or Levitation are very sought after and Mercenk can choose who he wishes to work with!
His personal stamp always stands out and he is supported from the most popular DJ ́s in co-operation with select vocalists, as in his last releases with Karl Frierson "Walk With Me" or Pat Appleton "Curiosity".
With this first edition he presents samova with the finest handpicked house music tracks from his own repertoire. Showing proof not only of his compiler but also his producer skills and know how. The result is a compilation that underlines, extends and interprets samova's philosophy. »samova – Music for Modern Tea Culture« emphatically transmits positive feelings and is the audiophile counterpart to samova's creative tea blends in all other lifestyle areas and situations.
Have fun dancing, listening and enjoying: Why not mix yourself a tasty samova Teamspirinha!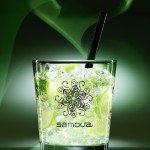 Recipe for one glass of »Teamspirinha«:
samova Team Spirit (cooled) Crushed Ice
8 eighths from a fresh lime
4 cl original Pitú do Brasil
3 teaspoons of brown cane sugar, 1 straw
( ) Preparation: Put 8 eighths of a fresh lime into a samova cocktail glass and sprinkle with brown cane sugar Squash this with a muddler, add crushed ice until the glass is three quarters full. Add Cachaça and top up with cooled samova Team Spirit. Add a straw and savour. Alcoholfree Variation: Don ́t add the spirit.
Title: samova – music for modern tea culture
Release: 14.12.2012
Label: ideedeluxe records | LC 23315
Online:
samova.net
facebook.com/samova.net
https://www.facebook.com/SinanMercenk.official/
sinanmercenk.de
youtube.com/sinanmercenk
mixcloud.com/SinanMercenk
https://soundcloud.com/sinan-mercenk
For more informations, please contact: promotion@ideedeluxe.de