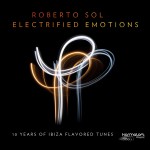 Roberto Sol – an acclaimed artist not only in the global lounge and chillout scene – has now brought forth another masterpiece with his brand new album Electrified Emotions which is full of surprises. Including all the ingredients from the musical realms of pop, jazz and world music the album has turned out to be an impressive documentation of musical globalism. Downtempo beats and modern Jazz elements combined with exotic African and Asian elements turn your living room into a private Ibiza lifestyle zone. The sound reflects Roberto Sol's own cosmopolitan attitude.
X-Factor contestant Gladys Mwachiti from Kenya singing in her mother tongue along with the African harp – called kora – provide that exotic touch to the song "Pale". Mic Donet, ("Voice of Germany" winner nominated for an Echo Award in 2013) lends his distinctive soulful voice to the song "Can't forget You".
DJ Jondal – one of Europe's leading chillout and lounge music DJs – lend his great voice to the track The World Around You. Roberto says: "The album presents short stories which are meant to give the listener a mixture of joy of life and sensuality." "Electrified Emotions" – embedded in relaxed beats and bass lines turns your living room into a private chill-out zone. Roberto Sol and his friends deliver the music – mixing the Caipirinha, Mojito or Hugo drink is then up to you! 100% Ibiza chillout music at it's best.
Video: watch on youtube
→ Roberto Sol – One World One Future (Official Video HD)
Artist: Roberto Sol
Title: Electrified Emotions
Releasedate: 11th October 2013
Format: CD and Online
For more informations, please conatct: promotion@ideedeluxe.de
Promotion 2013: Print, Radio, TV, Online