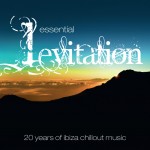 The share of love for music lasts longer than many marriages. 20 years is the period of Chris Gilcher, Ingmar Hänsch and Marcell Meyer unified as a team called Levitation. Affected by a distinctive style, they've been shaping a sound that has inspired a whole generation. Chillout is the musical genre, they had a big impact on- most of all with their contributions for the ground-breaking compilation-series Café Del Mar, above all More Than Ever People feat. Cathy Battistessa.
For one part, Essential Levitation is a collection of 20 tracks on 2 CDs, which presents the best achievements of the team in 20 years. For the other part, it is new material which Levitation has produced for this release over the past three years. To escape the stereotype of lounge music as just another muzak, Levitation has always strived for high standards in songwriting and composition. The songs will certainly stand the test of time, featuring first-class vocalists such as Mocci Ryen (who worked with Patti Labelle among others). She gives a stunning performance on the advance single How Wonderful and the trippy Circle Of Life by adding a lascivious air to the tunes.
Another prime example of setting completative lyrics in a romantic context is Caro Barth's vocal input. In combination with a spanish guitar, her crystal-clear timbre is melting the ice on These Thoughts. By adding various singers to the tracks, Levitation accentuate the different colours of a warm prevailing mood. The music is characterised by an analogue sound which leaves the sterile productions of comparable approaches to the genre miles behind.
The soundtrack is generally downtempo. In order to a create a pleasant atmosphere, solid grooves lay the fundament for airy keyboardlayers, jazzy Rhodes-chords, or a guitar-picking. An exclusion to the norm is the instrumental Dabe Dabe, an uptempo instrumental with four-to-the floor rhythm that points in the direction of Underworld. This variation of style fits perfectly to the chilled vibes of the album.
As a surprise, the collection comprises also different unreleased mixes of classic material, such as More Than Ever People. The third CD is a bonus that features a mix of DJ Sweep, who is spinning the single tracks to become a liquid flow. Essential Levitation – 20 Years Of Ibiza Chillout is a sample of the past and at the same time a look to the future. It certainly sets sails for a projects that has been pausing for some years and is now taking off to new shores ahead.
Video: watch on youtube
→ Official Album-Video-Teaser
Tracklisting: Levitation | Essential Levitation – 20 Years Of Ibiza Chillout
CD 1
01 Overture
02 Trip a Spin
03 More Than Ever People (Late Night Mix) (feat. Cathy Battistessa)
04 Out Of Time
05 Dabe Dabe
06 351 Seconds
07 Tears In Rain (Levitation Edit) – J. F. Sebastian
08 Distant Memories
09 Appreciation (Original Radio Mix) – Levitation vs. Jelly & Fish
10 Atlantic Tales
CD 2
01 How Wonderful (feat. Mocci Ryen)
02 More Than Ever People (Reggae Mix) (feat. Cathy Battistessa)
03 These Thoughts (feat. Caro Barth)
04 Circle Of Life (feat. Mocci Ryen)
05 Unlike Me (feat. Mocci Ryen)
06 Wide Open (feat. Anne K)
07 Driving In Your Car (Levitation Remix) – Playgarden
08 Sensual Summer
09 Out Of Time (Jelly & Fish Remix)
10 More Than Ever People (Original Ibiza Mix) (feat. Cathy Battistessa)
CD 3 (Levitation in the mix – continuous DJ Mix)
01 Overture
02 Wide Open (feat. Anne K)
03 How Wonderful (feat. Mocci Ryen)
04 More Than Ever People (Reggae Mix) (feat. Cathy Battistessa)
05 Appreciation (Original Radio Mix) – Levitation vs. Jelly & Fish
06 351 Seconds
07 Circle Of Life (feat. Mocci Ryen)
08 These Thoughts (feat. Caro Barth)
09 Sensual Summer
10 Tears in Rain (Levitation Edit) – J. F. Sebastian
11 Distant Memories
12 More Than Ever People (2011 Revisited)
13 Unlike Me (feat. Mocci Ryen)
14 Out Of Time
Album: Levitation | Essential Levitation – 20 Years Of Ibiza Chillout
Album relase: 24th february 2012
Single: How Wonderful (feat. Mocci Ryen)
Single release: 10th february 2012
Label: Whirlpool Records
Video: watch on youtube
→ Levitation | Essential Levitation – 20 Years Of Ibiza Chillout
Levitation Online
levitationibiza.com
For more informations or interview requests, please contact: promotion@ideedeluxe.de
Single-/Album Promotion 2012
Press, radio, TV, online by idee deluxe