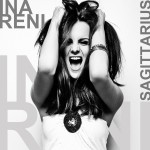 Ina Reni lets the sunshine in. With this, her ultra charming debut single Sagittarius, Ina steps into the spotlight with a wide smile. Cologne based producer Levent Canseven was intrigued by both Ina's voice and songwriting skills upon first listen and offered full studio support – another reason why Sagittarius lives up to international pop standards so effortlessly. Sagittarius tells the bittersweet story of an encounter with a notorious zodiac sign… who is always promising a lot but never really wants to go all the way for love. Thanks to the kicking hookline and Ina's sensual voice, all this results in a sonic affair that not even a sagittarius could seriously resist.
With Sagittarius, Ina Reni finally arrived where she always wanted to be – and she came to stay.
Just in time fort the anticipated hot summer, Ina Reni will present Sagittarius at the opening of the Premium Exhibition (International Fashion Trade Show). F95 Fashion Store will deliver an optical feast, dressing the singer at the 5th of July 2011 at Berlin-Station.
Artist: Inan Reni
Title: Sagittarius
Releasedate: 27. Mai 2011
Format: Online
Label: ideedeluxe records | LC: 23315
Ina Reni Online:
inareni.com
ideedeluxerecords.com
For more informations or interview requests, please contact: promotion@ideedeluxe.de