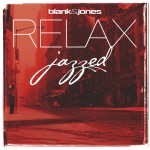 RELAX – jazzed // The Rebirth Of Cool
Here comes the ultimate soundtrack for this winter. Blank & Jones team up with young german jazz sensations Julian & Roman Wasserfuhr to record one of the most outstanding and exciting albums of the year. It's the perfect fusion of Chill Out/Lounge with the finest Jazz music. It's the kind of music you want to hear on a sunday morning with a cup of coffee on your couch, watching the rain outside. It's a warm and mellow masterpiece which focusses on the amazing sound of Julian Wasserfuhr on trumpet and his brother Roman on piano. Classic Blank & Jones compositions like Desire or Mind of The Wonderful shine in these new jazz interpretations and make it easy to chill out and fall in love with this record. The concept was developed over the past 12 months and the team wanted to create this magic atmosphere where time just stands still.
This recording has the potential of a future classic and will stand the test of time for sure. Enjoy this beautiful record over and over again!
Tracklisting
01 Lazy Life (jazzed by Julian & Roman Wasserfuhr)
02 Perfect Silence (jazzed by Julian & Roman Wasserfuhr)
03 Relax (Your Mind) (jazzed by Julian & Roman Wasserfuhr)
04 Hideaway (jazzed by Julian & Roman Wasserfuhr)
05 Flying To The Moon (jazzed by Julian & Roman Wasserfuhr)
06 Pura Vida (jazzed by Julian & Roman Wasserfuhr)
07 Mind Of The Wonderful (jazzed by Julian & Roman Wasserfuhr)
08 Closer To Me (jazzed by Julian & Roman Wasserfuhr)
09 Consequences (jazzed by Julian & Roman Wasserfuhr)
10 Desire (jazzed by Julian & Roman Wasserfuhr)
Blank & Jones RELAX – jazzed
Release: 23th November 2012
Label: Soundcolours, LC: 15651
Distributor: Soulfood / KNM
Online
soundcolours.com
For more informations, please contact: promotion@ideedeluxe.de