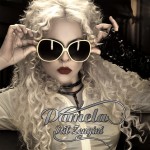 … four album releases, her single "Istanbul" was the hit of the year, rotated on MTV Turkey in a loop,  sold-out tours through Turkey, the Turkish Music Award "Kral" and also the award for the best Turkish song in the rock category. That's Pamela.
ideedeluxe records released her fourth album "Stil Zengini" now outside of Turkey. The 12 tracks of the album have an international soul and that foremost because Pamela sings not only in Turkish, but also in English. The music grooves between impulsive Pop, Dance and R & B. A lot of songs are made for intense radio rotation and show us a quality that only real big pop artists can call their own.
The first single-release is "Say What You Want" incl. a grandiose Sinan Mercenk Remixe package. In the video to the English song she dances sexy in a club and sings with a cool attitude about love and passion, that everyone feels quickly attracted by.
So welcome one of the biggest Pop voices of Turkey.
Video: watch on youtube
→ Say What You Want
Video: watch on youtube
→ Say What You Want - Sinan Mercenks Radio Edit
Video: watch on vimeo
MTV Artist Spot – Pamela from Pamela Spence on Vimeo.
PAMELA "Say What You Want"
Single-Release: 26th of April 2013

PAMELA "Stil Zengini"
Album-Release: 03rd May 2013
Label: ideedeluxe records
PAMELA Online
pamelaspence.com
twitter.com/pamela_spence
facebook.com/pages/Pamela-Spence/23637137104
ideedeluxe records
eMail: music@ideedeluxerecords.com
Web: ideedeluxerecords.com
Soundcloud: soundcloud.com/ideedeluxe-records
Facebook: facebook.com/ideedeluxerecords
YouTube: youtube.com/ideedeluxerecords