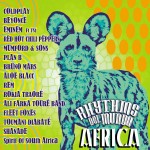 Rhythms Del Mundo: Africa is the brilliant new album from Artists Project Earth, and features high profile western and African musicians collaborating on exclusive African mixes of contemporary hits, such as Not Afraid by Eminem, Timshel by Mumford and Sons,  I Need A Dollar by Aloe Blacc, Under the Bridge by the Red Hot Chili Peppers and many more.
APE's Music Producer and Founder, Kenny Young, travelled to Mali to record the esteemed African musicians, Toumani Diabaté, Bassekou Kouyate, Ali Farka Touré Band, and Rokia Traoré. Sessions also took place in Kenya, South Africa and Swaziland. Members of Miriam Makeba's band and Senegalese musicians also added their brilliant musicianship to the collaborative tracks.
As with previous albums, funds raised from the sale of Rhythms Del Mundo: Africa will be used to support incredible projects from around the world that are actively finding ways to mitigate climate change and natural disasters. To date, APE has funded over 300 such projects.
Tracklisting
1. Coldplay – Viva la Vida
2. Beyoncé – I Miss You
3. Plan B – She Said
4. Aloe Blacc – I Need a Dollar
5. Eminem ft. TS1 – Not Afraid
6. Mumford & Sons – Timshel
7. Rokia Traoré – Is This Love
8. Red Hot Chili Peppers – Under the Bridge
9. Fleet Foxes – Mykonos
10. REM ft. Ali Farka Touré Band – Losing My Religion
11. Shanade – I Am Because
12. Bruno Mars – Grenade
13. Rokia Traoré – John & Yoko
RHYTHMS DEL MUNDO: AFRICA
Release, Germany: 16.11.2012
Label: APE
Distributor: Soulfood / KNM
Online
rhythmsdelmundo.org
For more informations, please contact: promotion@ideedeluxe.de