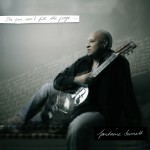 The Album: "I've been a sideman on stage and in studios for more than a quarter of a century!" exclaims Burnett whose career as a professional began at the age of twelve, "I was feeling like I had pretty much perfected the art of being in the background, (laughs) and I figured it was time to put the validity of my own musical vision to the test." Easier said than done. One distinct disadvantage to being a sought after sideman is the demand placed on your time. Burnett continues: "I tried to make the best use of my time between tours, studio sessions and family obligations to find a creative space of my own. Often I would start writing a song with the intention of presenting it to a specific artist only to find out that it had taken on a very personal point of view…one that was best interpreted through me."  And thus the conception of Burnett's first long player "The Pen Won't Fill the Page…"
The self-produced album is of a decidedly "homegrown" nature. It was a conscious decision to keep the production simple and earthy. The lack of a real budget surely played a roll, but the main motivation being an exercise in reduction.
"The older I become, the more of a fan I am of understatement. I don't like things that distract from a well conceived lyric or melody. This is also the reason for using mainly tried and true acoustic instruments on the album. It preserves the "rootsy" quality that's so inherent in my songs."
The twelve songs on the album represent a variety of musical styles and move with ease between grooving bluesy-pop to jazzy folk-rock with some unexpected stops along the way. Thematically, The songs address familiar human issues like love, family and relationships, ("Too True To Be Good" , "The Pen Won't Fill The Page", "Fool's Game") political injustice, ("Blind Leading Blind") or spiritual awakening and belief, ("Down To The River", "Gonna Find You" and "Beyond the Veil") just to name a few. All wonderful vehicles for Burnett's deep grooves and direct yet poetic lyrics.
"Call me a dreamer but my goal is to create music that has more of a purpose than pure entertainment. Something that can be a useful part of the listener's life. Something that people can use to stay inspired, informed, AND be entertained. Music that people will play in their homes and cars and will fill their ears and hearts."
Just like Fontaine Burnett had all those years ago when he was a child.
Biography: "It all seemed normal for me at the time…definitely nothing extraordinary." says Fontaine Burnett speaking of his upbringing in a musical household. Burnett, the son of a semi-professional saxophonist and the youngest of three children views his childhood as the foundation of his musical personality. "The house was full of music. Either from records or being made live. At any given moment there would be a smorgasbord of different types of music blaring from different rooms in the house." quotes Burnett.
This daily sonic tapestry instilled in him a deep appreciation of all forms of music; from the gritty and earthy blues, jazz and soul which he learned from his father; a love for classical and spiritually profound gospel from his mother; and an enthusiasm for all forms of popular music ranging from head-banging Hard Rock and pants-sagging Hip-Hop to twanging Country and bouncy Pop gleaned from his two older siblings. This high calorie musical diet was the perfect nutriment for a growing musician, and it wasn't long before he found himself in high demand as a sideman and songwriter. "Yeah, I've worked with a lot of incredible people over the years" says Burnett, "some with names and some without! (laughs)"
The genuinely modest Burnett may not be a fan of name dropping, but it doesn't change the fact that many high caliber musicians have made good use of his remarkable talents as a multi-instrumentalist, composer and producer. Some of those include: Chaka Khan, The Temptations, Al Bano Carrisi, Max Herre, Joy Denalane, Yvonne Catterfeld, Mousse T., Marla Glenn, Aura Dione, Chocolate Genius Inc. and many many others.
Tracklisting Album
01. Down To The River
02. Blind Leading Blind
03. The Pen Won't Fill The Page
04. Too True To Be Good
05. The Simple Life
06. Fool's Game
07. Sprockets Turn
08. Gonna Find You
09. Beyond The Veil
10. Tug'o War
11. Crimson and Ivory
12. The Last One In Line
Tracklisting Single
01. Blind Leading Blind
02. Blind Leading Blind (Sinan Mercenk's Remix)
03. Blind Leading Blind (Unplugged Version)
04. Blind Leading Blind (Instrumental)
05. Blind Leading Blind (Vio Mix)
Fontaine Burnett: The Pen Won't Fill The Page…
Release: 09th og NOvember 2012
Label: ideedeluxe records, LC: 23315
Online
fontaine-burnett.de
For more informations, please contact: promotion@ideedeluxe.de