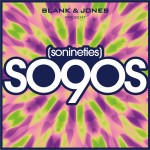 Blank & Jones hits with so9os the official German sales charts at no. 14!
After the success of the so8os it was about time that Blank & Jones bring u another exciting decade….the 90's. And with the first so9os releases they hits the Top 15 of the official German sales charts! The concept of so9os is a bit different as so8os. When Blank & Jones got deeper into it, they saw how diversified the 90ies were, with a lot of different musical genres. So Blank & Jones had decided to dig deeper and find out which songs still sound fresh after 20 years and really have a great production! They also decided to keep the whole dance music explosion from 1995 onwards aside.  Not just keep they own career as musicians & producers aside, but also not to focus on only one musical genre.
The first so9os [so nineties] is include some massive tunes from P.M. Dawn (Set Adrift..), Saint Etienne (He's On The Phone), Baby Dee (Let Me Be Your Fantasy), Stereo MC's and many more. Join Blank & Jones on they trip into this great decade with many classic anthems and some hidden treasures!
Blank & Jones Online
facebook.com/so8os
blankandjones.com
For more informations, please contact: promotion@ideedeluxe.de