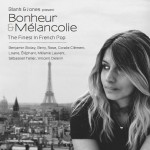 French music always sounded different from english or american pop music. Not only because of the language, but also because of it's very unique sound. Blank & Jones have been travelling to france since the 1980s and always brought home some musical souvenirs. It started with names like Mylene Farmer, Niagara, Etienne Daho or Vanessa Paradis, later artists like Benjamin Biolay or Keren Ann followed. After their Paris trip in spring 2013, where they shot the music video for "Days Go By" with Coralie Clement, they decided to present these new Pop Sensations from France on Bonheur & Mélancolie. This exclusive collection brings you stars like Benjamin Biolay or Sébastien Tellier but also presents new talents like Éléphant, Rose, Berry, Loane or Vincent Delerm.
Coralie Clément, who is Benjamin Biolay's sister, worked with Blank & Jones already on two songs and is also featured on the cover artwork of this collection.
All in all "Bonheur & Mélancolie" is not only a must have for all lovers of french pop music, but also for everyone who wants to fall in love with music again. Discover the fresh sounds from France!
Video: watch on youtube
→ Blank & Jones – Behind The Scenes Paris 2013 (Bonheur & Mélancolie)
Artist: Blank & Jones
Title: Bonheur & Mélancolie
Releasedate: 20. September 2012
Format: CD and Online
Label: Soundcolours | LC: 15651
Blank & Jones Online
blankandjones.com
soundcolours.com
For more information, please contact:: promotion@ideedeluxe.de
Promotion: Print, Radio, TV, Online