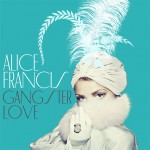 Alice Francis: The new swing-era's designated queen of cool and easily one of the most exciting new acts this year. Besides her unique voice that melds modern pop with the crystal clear pitch of all-time greats like Billie Holiday and Eartha Kitt, Alice is an extraordinarily skilled songwriter, lyricist and live-performer. The productions of Alice and her musical counterpart Goldielocks offer much more than merely retro chic. Gangster Love – it's the sound of the Roaring Twenties the means of 21st Century. It is one of the jewels of the debut album "St. James Ballroom" by Alice Francis. In a very large, complex production, with great to detail, the team processed with a wink, the mood and the vibe of The Godfather in a new actual guise. While it tells of crooks and a lost love, it draws the listener with operettas, violin and car squeaking sounds from the beginning paired in it's magical spell of wild 20ties with a 21st Century head banger beat that cannot make your feet stand still. For this production, Goldielocks brought the best musicians of the genre into the studio. On the violin Axel Lindner, he recorded the impressive violin solo a la Stephane Grappelli. Peter Kowal, guitarist from the Hot Club de Cologne swings the Gipsy guitar in the style of Django Reinhardt's and Natalie Kies, singer from the same jazz trio, together with Sir Chul-Min Yoo and even Goldielocks sang the elaborately arranged backing vocals.
Influences from electro, hip hop, soul and pop are arranged on such a high level that their fan base is growing worldwide. After Shoot him down and St. James Ballroom, which together registered over 500,000 views, a support tour in Germany with Parov Stelar and Caravan Palace now they are playing concerts in Vancouver, Istanbul, Israel, Paris, London, Moscow to Prague…
Great fellow artists like Alle Farben, Tune Brothers and Shiny Mob (aka Caravan Palace) the Sound Nomaden, 3asy – K and Jamie Berry have made remixes of "Gangster Love". They create a distinctive combination of Electro Pop, Vocal House and Electro Swing. It should be danced to…, if we should ask… the ladies and gentlemen… like at one of their concerts.
Video: watch on youtube
→ Alice Francis – Gangsterlove – Official Video
Tracklisting: Gangster Love
01 Gangster Love (Shiny Mob Remix)
02 Gangster Love (Sound Nomaden Remix)
03 Gangster Love (Alle Farben Remix)
04 Gangster Love (Tune Brothers Vocal Club Mix)
05 Gangster Love (Tune Brothers Dub Mix)
06 Gangster Love (3asy-K Remix)
07 Gangster Love (Jamie Berry Remix)
Promotion: Online und TV